It should not be surprising that recent reports identify e-commerce apps as the largest users of retargeting campaigns. These shopping and retail apps are the perfect fit for direct response retargeting. Following on from our Ultimate Guide to Marketing and M-Commerce, we wanted to dive deeper into the changing opportunities of e-commerce app retargeting.
After a refresher on the advantages of retargeting, we will provide a few advanced tips for running Facebook-led campaigns as well as more scalable campaigns outside of the "walled gardens". Finally, with iOS14 due for release in a matter of days, we will examine how Apple's latest operating system will, for better and worse, affect the practice. 
Why Retarget?
Typically, 21% of users stop using an app after installation. The average mobile user has over 100 apps on their phone – a fact that makes competition fierce for their time, money, and attention. Unlike traditional CPI focused campaigns, retargeting focuses on the (re)engagement of high-value users. And when run well, the practice is highly effective – apps that run retargeting campaigns have a 130% higher rate of paying users.
While the practice of retargeting has multi-platform benefits, its advantages are at their most pronounced on mobile where retargeting ads have been shown to be 13 times more effective than on desktop. The majority (71%) of m-commerce sales are in-app where users are able to browse and convert at much higher rates than on mobile web. Retargeting encourages direct action, which for e-commerce apps translates to increased purchases and revenue.
E-Commerce App Retargeting on Facebook and Google
The tech giants that dominate the advertising world, Facebook and Google, facilitate effective retargeting (or "remarketing") opportunities (Facebook's Retargeting Guide / Google's Remarketing Guide). Facebook has acquired a particularly dominant place in the world of e-commerce. If you opt to retarget using Facebook, take advantage of their self-optimizing "dynamic creative ads" as well as running "sequential engagement campaigns" during video promotions.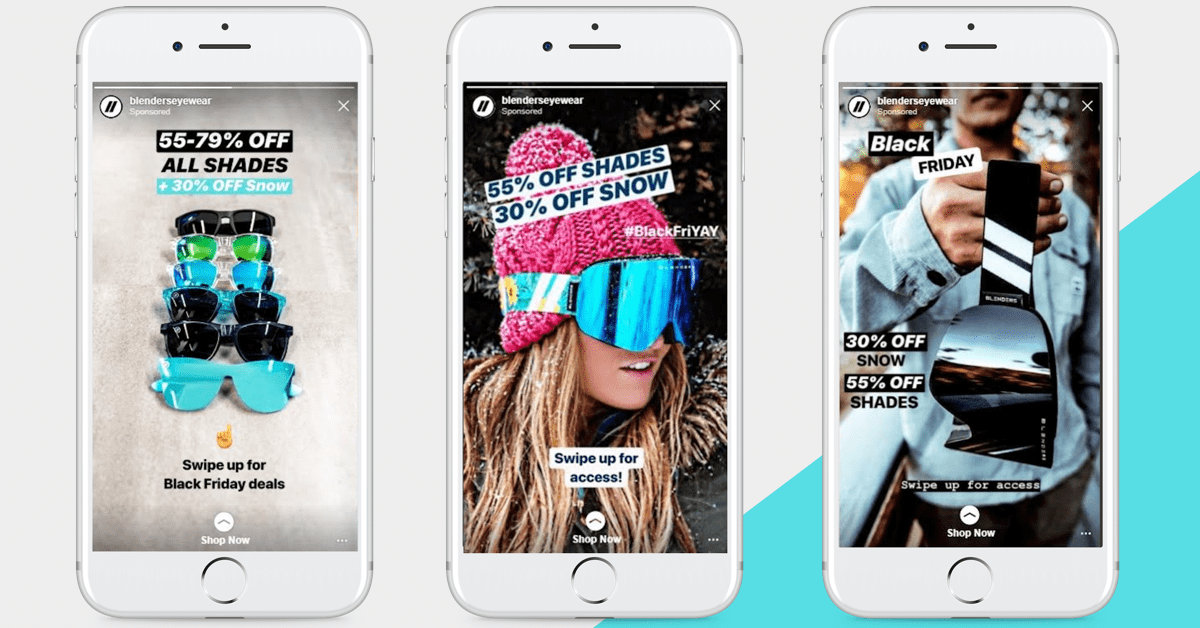 Sequential Video Ads – Source: Buffer
E-Commerce App Retargeting Outside of Facebook and Google
While Facebook and Google can both offer great locations and tools for retargeting, there are plenty of opportunities for marketers to reach users outside this ecosystem. To retarget on scale, it is essential to step outside of the "walled gardens".
When implemented with expert assistance, the following techniques can supercharge e-commerce app retargeting campaigns leading to the en-masse conversion of high-value customers.
Product Diversification and Continuity
There is a limit to the quantity of a particular product that a person can repeatedly buy. Diversifying the products offered via retargeted ads is a great way to maximize revenue and brand familiarity. This can be done via cross-selling and up-selling (based on product choices) as well as cross-selling (based on customer attributes).
Sometimes, however, the best approach is to continue with what is working. "Level x" is the term given to the threshold by which revenue-per-user can be maximized while advertising the same product. The effectiveness of same-product ads varies from product-to-product but is especially useful during the first 24 hours.
Restrained Ad Frequency (Ad Capping)
Heavy ad frequency is not always something to celebrate. Somewhat counterintuitively when it comes to retargeting, often "less is more". When would-be buyers see ads too often, it can have a negative impact on their emotions as a product 'chases' them across the web. Just as with push notifications, if users see ads too often, they report finding them "annoying", "intrusive" or worse yet "creepy". Equally, just as with push notifications, when implemented at an optimal frequency, they can have remarkable results.
Audience Targeting and Segmentation
Just as traditional customers visited shops for many reasons, mobile customers visit ecommerce apps with a variety of intentions. Identifying and appealing to these varied intentions is essential to better engage and re-engage customers. The key to improved audience targeting lies in the alignment of shoppers' intentions and e-commerce apps' customised advertising audiences. In other words, effective behavioural segmentation.
Audience size also plays an important role in retargeting campaigns. The bigger the audience size, the better, as it allows for campaigns to scale more effectively and for more granular segmentation capabilities. On the other hand, a smaller audience size doesn't facilitate scale in performance, nor can advertisers break down their audiences into smaller segments (as the audience size is already quite small to begin with).
Post-Install Conversion Tracking
Post-install conversion tracking is another essential technique with results that speak for themselves. The advantage of post-install conversion tracking is that it grants advertisers the ability to identify the 'tipping points' between low- and high-value customers. Once the customers with the highest potential LTV have been identified, advertisers can focus their retargeting campaigns on tailored ads that will push those potential customers over the line. All while only spending their budget on the most valuable customers around.
For more on post-install conversion tracking, read our dedicated blog post. 
CPA Campaigns
Unlike traditional cost-per-mille or cost-per-install campaigns, the KPIs of retargeting campaigns can and should be more specific. Adopting a cost-per-action (CPA) model grants unprecedented control to measure and optimize a campaign based on the post-install events that matter. For e-commerce apps, this could be first purchase or customer registration – which as we are about to explain, is soon to become an increasingly desirable goal.
For more on cost-per-action campaigns, read our dedicated blog post. 
Retargeting After the iOS14 Update
At this year's Worldwide Developers Conference (WWDC), Apple promoted an array of announcements, products, and updates to great fanfare. For advertisers, the most impactful of these updates was Apple's new app tracking transparency framework and its implications for IDFA.
IDFA has not been completely killed off, yet. Though most experts agree that Apple is laying the foundations for its elimination. Next year, IDFA will become "opt-in before point of use". This has significant ramifications for retargeting on iOS.
Advertisers will no longer be able to leverage IDFA to retarget ads to lapsed users. Until now, apps could read IDFAs to discover low-engagement users and send their IDFAs to an ad network so that retargeted ads could be shown to that audience segment. The most common and useful example of this is when customers fail to finalize a purchase; retargeted ads could be used to warn them of their abandoned carts with the hope of re-engaging and converting them. After Apple's changes come into force, this will no longer be possible for unregistered customers.
Though all is not lost for e-commerce app retargeting on iOS as two saving graces prevent its demise.
Firstly, e-commerce apps usually require registration. iOS14 still allows for tracking based on the contact information provided during the registration process. As long as it is performed within the parameters of Apple's Intelligent Tracking Prevention, retargeting specific customers will therefore still be possible based upon CRMs. In this sense, e-commerce apps' registration process gives them a lifeline from the most adverse impacts of Apple's new rules.
Secondly, the agility and adaptability of the industry should not be underestimated. Alongside the new challenges of iOS14, new opportunities arise. Instead of relying on user-level targeting, in-app retargeting can evolve into contextual targeting. When basing retargeting on contextual audiences, app categorization becomes increasingly important. E-commerce apps (and others) should take note of these changes and ensure improved targeting via a high-level of specificity in their AppStore categories.
When evaluating Apple's new changes, Verve Group's Chief Product Officer Ionut Ciobotaru concluded that, "Instead of an 'apocalypse', it is actually a very important milestone. Privacy, advertising, and consumer choice finally meet to sustain a more efficient ecosystem."
Mobile commerce shows no signs of slowing down. It is set to grow by 68% from 2020 – 2022 as increasing numbers of consumers opt to shop on their phones. While industry practices may be shifting, e-commerce apps remain as lucrative as ever.
Want to learn more about running retargeting campaigns for your e-commerce app? Download our case study to find out how we helped a leading e-commerce brand achieve 2000%+ ROAS with retargeting campaigns.